If you feel called to participate in programs and events with Jyoti Ma, please sign up for her list.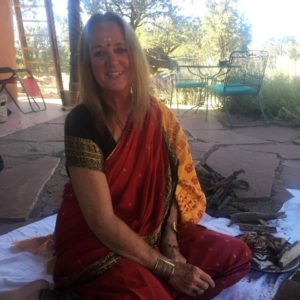 Jyoti Ma (Mataji) – Co-Founder, Enlightened Life Temple
Jyoti Ma is a former psychotherapist with a lifelong passion for unleashing the higher potentials of human consciousness. She closed her successful clinical practice and entered into a long period for isolated retreat to meditate, practice and study the timeless wisdom of the consciousness traditions. She subsequently met and received her first yogic initiations from Hirindra Singh, PhD, an accomplished yogi and transpersonal psychologist. Jyoti Ma's knowledge and expertise in western mystical traditions merged with Hirindra's insights and experience in the eastern enlightenment path to create Enlightened Life Sanctuary a legacy to and repository for this collective wisdom.
Jyoti Ma traveled to India to seek additional training and get immersed in the consciousness-expanding experiences that come through the use of yogic techniques and practices. She experienced a profound transformation and received transmissions from realized masters, sages and yogic practitioners. She became recognized as a teacher by her mentors and began a life of world travel to share these powerful methods with others. Mataji teaches the most compelling philosophies of east and west and helps others master the practices that allowed her to enter the unified state of integral consciousness.
Mataji's return to the U.S. coincided with advancements in neuroscience studies that have proven the value of yogic techniques to heal addictive and traumatic stress disorders, chronic depression, anxiety and more. These methods have been confirmed to optimize healthy neurotransmitter activity and restore and change the brain. Recognizing the small number of teachers available who are proficient in the diverse yoga methods that have been studied, Jyoti Ma received training to become a Certified Professional Coach. She specializes in mentoring and coaching others to explore deep within, broaden personal perspectives and practice Integral Consciousness techniques to speed radical self-healing and revolutionary life transformation.
As an expert in the philosophy and practices of yogic psychology, Mataji offers training in the use of these effective methods to helping professionals, advocates and coaches. Through her work with Integral Consciousness Coaching, many have been able to use these techniques to heal, recover, expand their self-awareness and thrive. She has created the 12 Essentials of Life Mastery system for self-healing and life-transformation that anyone can use to awaken their higher potentials and integrated greater awareness into their lives.
Mataji's training and expertise includes the yogic traditions of Siddha, Kundalini, Kriya, Tantra and Sahaja. She has experience in the Advaita Vendanta tradition of non-dual awareness, exemplified by the life and teachings of the great saint Ramana Maharshi. She has been immersed in the spiritual tradition of Tamil Nadu and Shri Lanka, known as the Siddha path, the ancient, root source of the enlightenment traditions of India. Under the guidance of Siddha master Sri Hari Baba, she received initiation in the tradition of Tirumular Siddha Yoga, named for the great saint Tirumular, author of the scriptures of the Tirumandiram. She received the Siddha name Jyoti Ma and has been facilitating Siddha practice groups since 2013.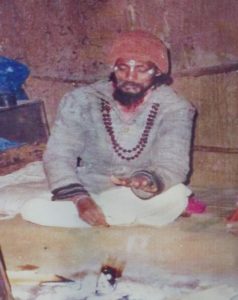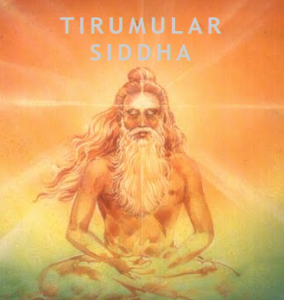 As a practitioner and teacher of eastern and western systems for self-actualization, Jyoti Ma has produced a variety of specialty books and media in her former name, Chavah Aima. She continues to add new programs to these rich resources for enlightened living.
Books by Chavah Aima:
Soul Analysis: What your Birthday Reveals about Your Spiritual Destiny
Living Light: The 21-Day Alchemical Regeneration Plan
The Secret Traditions of Jesus and Mary Magdalene
The Green Lion: An Alchemist's Guide to Juicing
Alchemical Yoga: The Yoga of Transformation
Mataji authored the curriculum for Heart of the Rose School of Mastery, a correspondence course in the wisdom traditions for members of Enlightened Life Temple. The home-study course includes lessons in the spiritual psychology of Kabbalah, astrology, the Christian mysteries, the Yoga traditions and much more. She has created video training programs including, Inner Wisdom: 22 Steps to Higher Consciousness and The Kabbalah Unveiled.
Jyoti Ma is available for guidance, mentoring and training to those who are drawn to the path of self-knowledge, conscious awakening and liberation. She works with individual, groups and organizations. Contact us for speaking engagements, special events and retreat programs.
Highlights –
Executive Director, Mentor Coach, Touchstone Mentoring & Coaching, 2013-2018
Co-Founder, Executive Director, Enlightened Life Sanctuary, Inc., Austin, TX and worldwide
Ordained Minister, Universal Brotherhood
Independent Adept, Rosicrucian Order
Initiated Yogini, Kundalini, Tantra and Tirumular Siddha Yoga
Mentor, Trainer, Yogini – Retreats, seminars, workshops, practice groups, pilgrimage tours, gatherings, sacred journeys, training and consultation in yogic psychology and yogic methods for self-healing and self-actualization.
Sacred Tour Leader – Facilitate remote horse-riding and camping journeys for sacred sojourns in the Navajo nation including Canyon de Chelly and Monument Valley, and guide pilgrimage tours to India, Sri Lanka and Europe.
Project Manager and Tour Leader, India Tour for Women and Children charity event, raised funds and coordinated delivery of donations and supplies to Astitva, a women's refuge in Dehradun, Uttarkhand, India and the Karna Prayag infant refuge, orphanage and adoption trust in Chennai, Tamil Nadu, India. 2012-2014.
Wandering Yogini, Holy Woman – Deep immersion in Indian Hindu culture, living in a variety of ashrams, learning from traditional gurus, yogis and sages, practicing Sanatana Dharma and making pilgrimage to sacred sites and temples. 1999-present
If you feel called to participate in programs and events with Jyoti Ma, please sign up for her list.